Traveling well can be one of life's great pleasures, whether you're alone or with friends and family. But what does it mean to travel well?  Avoid hassle, pack a single bag, and bring only the necessities. "Traveling well is a fine balance between finding inspiration in the unknown while being grounded in something," says Wirecutter founder Brian Lam. "Sometimes that is a memory of home, a family, a significant other, friends, etc. Sometimes it's just the familiar, reliable stuff in your bag."
After another year of traveling thousands of miles on our picks and trying some new contenders, the best travel gear from last year is still the best travel gear this year. We've added a new section about clothing (including socks and underwear), as well as some reader-requested items: a luggage scale, packable duffel bag, u-shaped neck pillow, and a smaller toiletry kit.
Over the past two years, we've spent more than 200 hours researching and testing dozens of products to find the most dependable items to help you travel well. On top of that, we sought the advice and wisdom of Doug Dyment, the author of OneBag; he's logged millions of miles as a traveling businessman and public speaker over the past few decades. We also ran our picks by travel gear reviewer Eytan Levy, the Snarky Nomad.
And we relied heavily on the Wirecutter and Sweethome staff's experiences as an especially mobile group that has worked remotely from every continent except Antarctica—the five most frequent flyers among us travel about a half million miles in any given year.
Table of contents
Packing

Carry-on duffel/backpack hybrid (non-roller)

Packable duffel bag

Carry-on bag (rolling)

Checked luggage

Compression sacks

Luggage scale

Packing cubes

Clothing

Travel underwear

Socks

Flip-flops

Clothesline

Hygiene

Toiletry kit

Toiletry bottles

Disposable razor (faces)

Disposable razor (legs/body)

Towel (packable)

Flying/riding

Neck pillow

Noise-cancelling headphones

Earplugs

Eye mask

Sleeping bag liner
Connecting

Unlocked mobile phone

Plug adapter

Wire/gadget organization system

Exploring

Travel binoculars

Travel credit card

Ebook reader

Folding water bottle

Packable daypack

Cameras

Notebooks

Just in case

Home security system

Sewing kit

Umbrella

Travel tips

Packing method for clothes
Packing
A well-packed bag is one that contains less than you think you need but everything you actually need. Wirecutter editor-in-chief Jacqui Cheng describes her approach to packing as "Sane and efficient—carrying just the right amount of stuff, at the right quality level, to keep yourself from going crazy while traveling." If possible, fitting everything into one carry-on and personal item will give you more freedom compared to checking a bag or two. You'll be glad you did if (and when) things don't go according to plan. Consider this example from OneBag's Doug Dyment: "I've been in situations where I've landed in Chicago on my way to New York and everything was snowed in, no flights were flying anywhere, but I was able to rent a car or take a train whereas everyone whose bags were being held hostage by the airlines were simply stuck." While carry-on-only isn't feasible (or advisable) for every trip—especially extended business trips or weddings where you need multiple outfits to maintain appearances—if in doubt, it's better to cut. As Sweethome executive editor Ganda Suthivarakom says, "I always severely under-pack and I have never regretted it. Whenever I arrive, I think, 'oh I have totally under-packed,' but it always winds up being fine."
Carry-on duffel/backpack hybrid (non-roller)
A good carry-on duffel bag enables you to fit everything you actually need for a week on the road into a comfortable-to-carry pack that measures 21 by 14 by 8 inches (the maximum volume allowed on most US airlines) and only weighs about three pounds. Compared to a similarly sized rolling bag, this will give you about 20 to 30 percent more usable interior packing space and be around 70 percent lighter.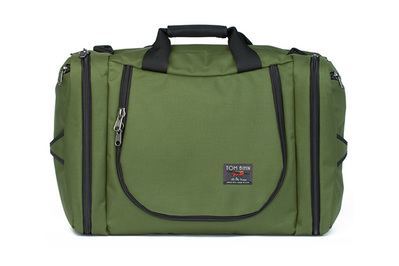 Tom Bihn Aeronaut 45
The Aeronaut's superb ergonomics, build quality, and attention to detail make it worth paying extra.
After looking at the dozens of options available online, we tested eight of the highest-rated carry-ons over the course of two years to determine that Tom Bihn's Aeronaut 45with the Absolute Shoulder Strap add-on is the best choice for most travelers looking to maximize their carry-on packing efficiency. We're not the only ones who like the Aeronaut either: One Bag One World gave it five stars,  Traveler Tech calls it their "favorite bag for extended travel," and Snarky Nomad said it was "perhaps the best travel duffel bag."
Build quality and material quality are unparalleled. The 1,050-denier "ballistic" nylon has a sheen that lighter-weight Cordura and polyester can't match. It's thick yet supple, almost leather-like, whereas the others feel like a shapeless backpack. It was also the only bag we looked at that had no exterior structural seams, which means you won't accidentally wear through a stitch if you take a spill on a rough surface. Ergonomics are also excellent. The backpack straps have a slight S-curve to them that hugs your shoulders and chest without exerting undue pressure on any particular point. And unlike the RedOxx Sky Train we tested, the straps attach at the base of the bag to independent buckles that prevent them from shifting uncomfortably if you make a sudden movement. It's comfortable as a shoulder bag, too. The Absolute Shoulder Strap is a $30 add-on, which brings the price up to just above $300 (prices accurate as of the time of writing), but the strap is widely regarded as one of the best shoulder straps you can buy for any bag. This is because it has a slight stretch that does a great job of distributing weight across your back as opposed to concentrating everything on the top of your shoulder blade. Finally, while most bags have two handles on the top and one side, the Aeronaut has comfortable handles on the top and both sides so you can grab whatever's convenient.
The one aspect where the Aeronaut isn't the clear class-leader is its interior organization. It's not worse, but it's certainly different. There's one large compartment in the middle with tie-down straps (about 11 by 14 by 8 inches) bordered by a smaller compartment on either side (about 5 by 14 by 8 inches each). They're separated by zippered dividers so you can combine the smaller compartments into the larger one if need be. Each of the side pockets also has a thin, zippered pocket for easy access to a passport, snack, Kindle, etc. The idea is that you can put all your folded clothes in a pair of custom-fitted packing cubes in the middle (alternatively, you can fit three of our favorite packing cubes) and a pair of shoes up to size 12 or toiletry kit on either side. It works great for this purpose, but if you need more room for a bigger item like a garment folder, you'll have to unzip at least one of the dividers to get it to fit—even then, you have to angle it in as opposed to just plopping it down the way you can with less-divided bags. It's not the most efficient use of space and renders one of the side compartments useless.
Over the last year, I've traveled thousands of miles with the Aeronaut and continue to use it as my go-to bag for most trips under a week long. We've come to really appreciate the quality and comfort of the backpack and shoulder straps and the bulletproof quality of the exterior fabric—the difference is immediately apparent when stepping down to the eBags or Red Oxx. The one thing that has come to bug us over time is the bag's lack of a dedicated laptop compartment. You can shove it into the pocket that stows the backpack straps, but this is far from ideal. It would have been nice if it just had a side-zippered pocket on the back panel like the Patagonia MLC.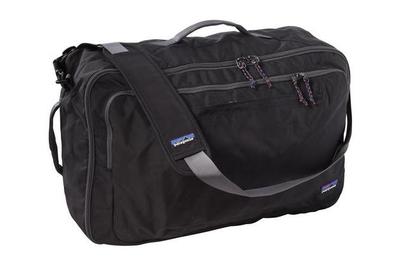 $190 from Headway MLC 45L
Patagonia Headway MLC 45L
This bag gives you more flexibility in how you choose to pack due to its full-length pockets.
Speaking of the Patagonia MLC, if you want a high-quality bag that handles bundles and garment folders better, look into the Patagonia MLC Headway. It's the latest version of a perennial favorite among seasoned travelers from outdoor backgrounds including the editors at Backpacker and Outside. And while the layout hasn't changed much, the exterior material was switched from polyester to a tougher Cordura fabric, like the Aeronaut (though a lighter, but unspecified denier). What difference can a fabric make? Well, last year, we preferred Red Oxx's Air Boss because it used Cordura at a similar (but slightly higher) price range. But now the MLC's fabric change, lower price, and long track record was enough to tip the scales in its favor.
Like the Aeronaut, the MLC's 45 L capacity is designed to fit the "Maximum Legal Carry-on limit" (get it?) and should have no issues fitting onto any domestic overhead bin regardless of airline. Unlike the Aeronaut, it has a handy laptop sleeve so you can easily take your computer out for the TSA. Also, while the Aeronaut is divided horizontally into three sections, the MLC is divided lengthwise by a zippered mesh divider into a bigger section for clothing that easily fits a garment folder or bundled wardrobe, and a smaller pocket above separated by a solid panel—good for flip flops, dirty laundry, or other things you'd like to keep separate from clean clothes. There's also space between them for big things you'd want easy access to like a coat or puffy jacket. In the front of the MLC, there's a smaller organizer pocket that's great for cables, batteries, chargers, and writing supplies. In front of that, there's a slip pocket that I like to keep reading materials in where they're easily accessible. Overall, the MLC is quite similar to Red Oxx's Air Boss, but while the Air Boss got the nod last year for its superior material quality, the new Cordura-clad MLC is comparably built, costs about $60 cheaper on most days, and has backpack straps, while the Air Boss is strictly a shoulder bag.
As for the other touches, the MLC uses zippers similar to the Aeronaut in size and smoothness. But they don't lock. And the MLC's backpack straps are shaped similarly to the Aeronaut's, but the padding isn't as substantial and will strain my shoulders and backs a bit more—there's also no waist belt, which makes it less bearable for heavier loads. The shoulder strap works fine, but we think it's worth upgrading to the Tom Bihn Absolute if you can spare the change.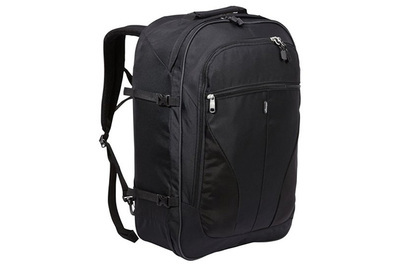 eBags eTech 2.0 Weekender Convertible
You lose out on organization features and style points, but you get great build quality and ergonomics for the price point.
Finally, if you don't have $200 to spend on a carry-on bag, the eBags eTech 2.0 Weekender Convertiblegives you an affordable and capable entry point into the world of wheelless carry-ons. It's basically an oversized school backpack in every way. It looks, feels, and and is built consistently with what you'd expect from an oversized Jansport backpack. Standard-sized YKK zippers take care of all sealing duties here, so it should be fairly reliable for years to come (though they're not quite as tough as the oversized ones on our other picks). One thing we don't like is the lack of multiple compartments. The reason why the MLC and Aeronaut are broken up into multiple compartments is that a 21-by-14-by-8-inch compartment is absolutely massive. Even if you use packing cubes, it's easy for everything to just get lost in the cavern. Interior tie-down straps and exterior compression straps keep things from shifting too much, but it's just not a great packing/unpacking experience. The complaints we had about the Patagonia's comfort go doubly so for this too. eBags uses even cheaper-feeling materials for all the straps—though the company does at least offer a skimpy waist belt similar to the Aeronaut's; the MLC drops the feature entirely. Finally, while it does look better than the Rick Steves pack we also tested (and is also cheaper), it still does not fit in with business-casual attire. It's a good deal for under $100 but clearly a cut below our other two picks. -Michael Zhao
Packable duffel bag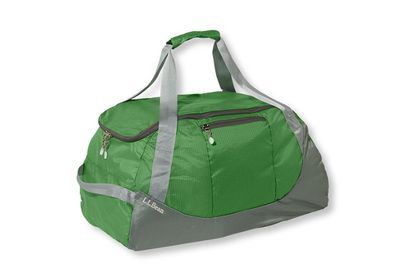 Sturdy, lightweight hauler
LL Bean's Lightweight Packable Duffle
This simple, lightweight, and well-stitched bag was the toughest packable we tested.
Duffel is a town in Belgium, once known for producing a strong woolen cloth that was perfect for making hard-wearing luggage. While duffel bags are still popular to this day, wool has since been replaced by lighter, more-durable nylon cloth. Indeed, the lightest duffel bags now weigh less than a pound and pack into a side pocket. They're perfect for extra storage when needed yet take up almost no space otherwise. To find the best packable duffel bag for your next trip, we hauled a bunch of awkward gear around in six top-rated bags, filling each with 30 pounds of rocks, stabbing them with Sharpie markers, scraping them on sidewalks, and overstuffing them to make sure the zippers can handle those last minute gifts that you shouldn't have waited to buy at the airport. In the end, L.L.Bean's Lightweight Packable Duffle emerged as the best way to haul up to 40 liters of your unanticipated purchases and still fit it under your airline seat. It's not the lightest or the toughest, but it strikes the best balance between the two.
L.L.Bean's Lightweight Packable Duffle has great ergonomics, solid yet lightweight construction, and just the right size and feel. (It feels like a lighter version of a typical gym bag.) Despite its voluminous capacity, it's about the size of a small bag of potato chips when packed into its pocket and weighs just 7 ounces. That means it's a bit lighter and smaller than the otherwise excellent Eagle Creek. But whereas the Eagle Creek developed pin-sized holes when scraped against the sidewalk, the L.L.Bean's thinner fabric came away with only slight abrasions. Otherwise, they're both great bags.
As far as ergonomics go, the L.L.Bean's well-stitched side and end handles feel comfortable and balanced, even when overstuffed. Although it doesn't allow for a shoulder strap, like the Eagle Creek, you could wear it as a slightly awkward backpack in a pinch. Overall however, we think the L.L.Bean's tougher material and lighter weight make it the superior packable duffel for most uses.
If you want something even lighter, Sea to Summit's Ultra-Sil weighs a mere 2.8 ounces and compresses down to the size of your fist. The parachute-like fabric has more tensile strength than the extremely thin material would appear to offer. Although it is very well stitched and was able to handle an awkward load, we suspect (and the manufacturers admit) that this bag wouldn't survive the potential punctures or scrapings of a baggage handler's toss—there were small tears after our sidewalk scrape test and the handles appeared strained under the weight of our 30-pound testing load.
Alternatively, if you know you're in for some rough travel and want something tougher and water-resistant, Granite Gear's 20-inch Packable Duffel (40 L) is a good investment. It costs a bit more, weighs a bit more (about 1.5 pounds), and packs significantly larger (about twice the size of a cheap chip bag), but it can also do more. For example, its tote straps uncouple to become padded backpack straps that are actually pretty comfy. And there's more organization, including a felt-lined sunglasses or gadget pocket. There's also a ton of webbing on the outside should you want to strap or clip anything onto it. We liked it a bit more than the similarly-equipped Eagle Creek Cargo Hauler (45 L), but only because the Granite Gear offers a better value. If the Eagle Creek falls in your price range and you like it's extra end pockets and more-technical look, by all means go for it. Both bags give you easy access to all your gear, unlike the High Sierra PackNGo 2-Sport Duffel, which inexplicably adds a pair of buckles that makes opening and closing it a two-step process. -Jack Chance
Carry-on bag (rolling)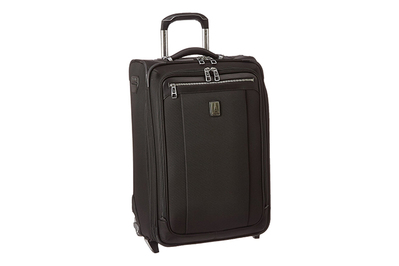 Travelpro Platinum Magna 2
For most flyers, this 22-inch Travelpro offers the best balance of size, price, reliability, durability, and high-end details.
Over the past three years we've researched several dozen suitcases and went hands on with the 31 most promising candidates in a variety of tests—including having active Virgin America flight attendants test bags for us in a fake plane fuselage in their training facility. After testing was completed, we determined that for most people theTravelpro Platinum Magna 2 offers the best balance of features, durability, and price for most flyers who log less than 25,000 miles annually.
It's relatively light, the wheels are built to last, and it's big enough to easily fit five days' worth of clothes. Compared to other bags in this price range, you also get surprisingly high-end components and a warranty that covers anything (even airline damage) for the life of the bag.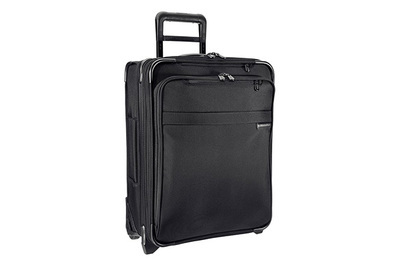 Briggs & Riley Baseline International
A higher-quality carry-on that holds up to seven days of clothing. It's great if you're willing to invest in quality and travel more than 25,000 miles annually.
If you fly more than 25,000 miles annually and you're willing to invest in a higher-quality product, we recommend the Briggs & Riley Baseline International Wide-Body Upright Carry-On Suitcase, which can fit up to seven days' worth of clothing thanks to a cavernous interior and clever expansion and compression system that can adjust to variable levels beyond open and shut. The Wirecutter's founder, Brian Lam, has put more than 75,000 miles on his so far, and it's held up great. His only complaint is that longer pants will need an extra fold, or to be rolled. In taller bags, pants will only need to be folded over once.
Checked luggage
If you need to pack more stuff than a carry-on and a personal item can hold, our first piece of advice would be to reconsider whether you need that extra outfit "just in case." But there are times when you'll need to travel with several pairs of shoes, formalwear, a winter coat, special equipment (like diving or camping gear) or all of the above. In these cases, there's no way to avoid checking a bag.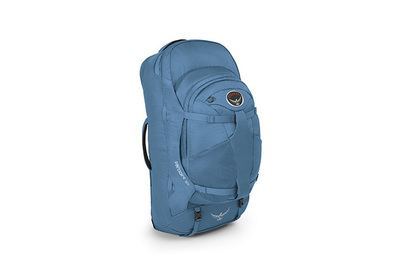 The best travel backpack for men and tall women
Osprey Farpoint 55 M/L
It's not perfect, but it's the best all-around travel pack for most men and tall women.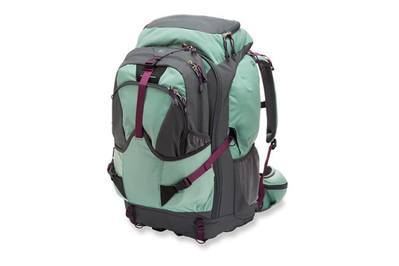 An adjustable, comfortable pack for most women
REI Grand Tour 80
Lots of features and an adjustable size make this the best all-around travel pack for most women.
If you're going somewhere where you'll need to walk a lot (or if there's dirt or cobblestone roads) we recommend a travel backpack. Specifically, the Osprey Farpoint 55 for men (and tall women) and the REI Grand Tour 80 for women will fit all the clothes and gear you need for extended travel into a comfortable package that can withstand baggage handler abuse. They also both come with detachable daypacks. You can read all about why we like them in our review of the best travel backpacks.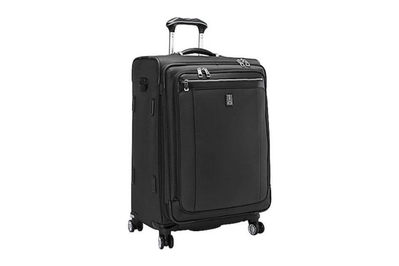 29-inch Travelpro Platinum Magna 2
It has excellent organizational features, is super durable, and has a higher degree of polish than anything in its price range.
If you don't plan on walking around while carrying all your stuff, we're currently still testing our checked baggage candidates, but the 29-inch Travelpro Platinum Magna 2 is an early favorite for all the reasons we loved the carry-on size: It has excellent organizational features, is super durable, and has a higher degree of polish than anything in its price range. -MZ
Compression sacks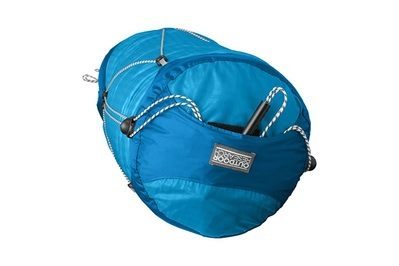 Outdoor Research Ultralight Z-Compression Sack
The Outdoor Research Ultralight Z-Compression sack is made from one piece of material, making it easy to close and less prone to damage.
If wrinkles aren't a concern, rolling clothes and stuffing them into compression sacks is an effective way to pack a lot of stuff in a small space by squeezing all the air out of your clothes. They're typically used for sleeping bags but are also great for strangely-shaped objects like socks and underwear. After testing three top finalists, we like the Outdoor Research Ultralight Z-Compression because it has a much easier-to-use construction than other sacks. You simply cinch up the opening, pull one cord to compress, and you're done.
It's the only stuff sack we've come across that can claim this feature, which is a shame because once you've used it, it's hard to go back to the old buckles, straps, and flappy end pieces. You won't squeeze out that last breath of of air like you can with a more traditional compression stuff sack, but we recommend it over vacuum sealed or zippered systems, and as you can see from the clips, this thing performs quite well. We don't recommend plastic vacuum-sealing compression sacks. Invariably cause wrinkles, and are just unreliable. Because they rely on a vacuum seal for efficacy, even the smallest puncture can render one of these completely useless. In last year's guide, we gave a shoutout to Travelon's version because it has thicker plastic than competing models, but that's only delaying the inevitable. The last thing you want is to be stuck with a bunch of clothes you're unable to repack because your compression bag sprung a leak.
Luggage scale
A digital luggage scale allows you to better plan your packing and keeps you from having to shuffle belongings between bags at the check-in desk to avoid a heftyoverweight baggage fee. After four hours of research and testing five top contenders head to head, we found that the Balanzza Mini USB is the best luggage scale. While most scales we tested gave accurate readings, the Balanzza's ergonomics, compact size, and simplicity of operation set it apart from the competition. And it charges its battery via Micro-USB cable, something many travelers already have on hand, rather than making you track down AAA or CR2032 batteries on the road like the others we tested.
Using the Balanzza is easy: Press the power button, strap the fastex buckle onto your bag's handle, lift the bag from the scale's handle, and wait a few seconds for the beep (a convenient touch lacking in the Orbsgo), at which point you can set it back down. Like all the scales we tested, the backlit LED holds your reading for 15 seconds or until you press any button (it will power down automatically after a minute). It's easy to read under any lighting conditions, unlike the Tarriss Jetsetter's unlit display. When you're done, a short press of the power button resets the tare. It defaults to reading in kilograms, but switches units to pounds with a press of a dedicated button. (Unfortunately, it doesn't save this setting once you turn it off, unlike the Dunheger Digital Luggage Scale.) The Balanzza Mini USB provided consistent and accurate readings to within 50 grams across an array of luggage—including roller bags, backpacks, ski bags, weighing up to 100 pounds or 45 kilograms. It comes in bright colors instead of the typical mock-steel or gray, which makes it easy to find in your bag. -JC
Packing cubes
Packing cubes could change your life. (Okay, maybe just your traveling life.) Packing cubes are basically bags to hold your clothes that you organize within your luggage. Though seemingly superfluous, they're brilliant in action. If you imagine your suitcase as a dresser, you can think of these cubes as individual drawers. All your underwear and socks in one container, all your shirts in another, and another for workout clothes. Pull out only the cube you want. They make packing and re-packing wonderfully simple.
Eagle Creek and eBags both make great packing cubes that are neck-and-neck in terms of build quality and value (about $30 for a set of three that will last forever). Both cubes are available in similar sizes, are virtually the same weight, and are backed by lifetime warranties. There are a handful of lesser-known brands that we considered during research, and we tested the most popular Shacke Pak, but the build quality isn't comparable.
Eagle Creek Pack-It Cubes
Eagle Creek's packing cubes have a nicer finish and feel than any other cubes.
Overall we prefer Eagle Creek's redesigned classic Pack-It cubes because the materials feel nicer. They're mostly made out of tightly-woven 300-denier polyester fabric that has a hand-feel reminiscent of camping gear from the '80s and '90s—tough, yet soft and brightly colored. The mesh panel in the middle is also more tightly-woven than those of competing brands. It's kind of like the difference between a window screen and a fishnet. This doesn't offer any tangible performance increases per se, but it does feel better and provides a better view of the contents within. Overall, everything just feels a little bit nicer on the Eagle Creek.
Still, the eBags' packing cubes are also great, and we wouldn't hesitate to buy them if the Eagle Creek were unavailable for whatever reason. The main difference is that the eBags are made of a slicker, more crinkly-sounding nylon material—think like a rain jacket or thick windbreaker. We also don't like that they have a sewn-on protruding plastic logo.
However, eBags does have one leg up on Eagle Creek: They use YKK zippers, widely accepted as the best around. That said, we couldn't tell any difference between the eBags and Eagle Creek zippers even with a magnifying glass, and their performance was indistinguishable. (For what it's worth, an Eagle Creek product manager assured me that the proportion of zipper-related warranty claims hasn't changed since they made the switch from YKK.)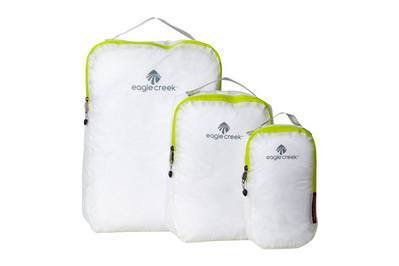 Eagle Creek Travel Gear Pack-It Specter Cube Set
Eagle Creek's Specter cubes weigh 40 percent less but don't unzip all the way. They're good for organizing but not as nice for accessing.
Both the Eagle Creek and eBags have the ability to unzip fully to allow full access to their contents while sitting in a dresser drawer. That means your clean clothes are protected from some potentially dicey motel dressers. But if you value lightness over the ability to easily access your contents, Eagle Creek's Specterpacking cubes ($40 for three) are about 40 percent lighter than similarly sized competitors (62.1 grams for a medium cube, compared to 106.6 grams for non-Specter Eagle Creek medium cube). You can still use them to organize your garments, and they stack like cubes, but you still need to take everything out if you want to access what's at the bottom of the cube. -MZ
Clothing
Buying the right gear can help organize your existing travel kit, but it's a red herring if your goal is better portability. "It's mostly the clothing that allows you to reduce what you need to carry," explains veteran traveller Eytan Levy, better known as the Snarky Nomad. That's because clothing, which is very voluminous, makes up the bulk of what's in your bag. He recommends traveling with basic-looking clothes because you can always buy or rent something nice in a pinch, whereas lugging around formalwear just in case will always be a pain. It also helps if you can avoid cotton and stick to merino and synthetic fabrics, which dry faster. This allows you to do laundry by hand in the sink as needed to reduce the amount of clothes you need to carry.
Travel underwear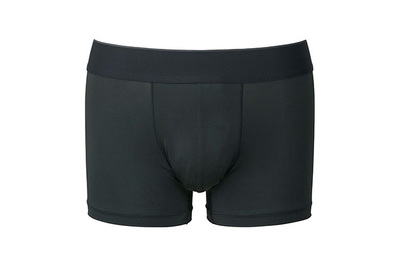 Uniqlo Airism Boxer Briefs
Comfortable, compact, great-fitting, and fast-drying makes these the best at any price.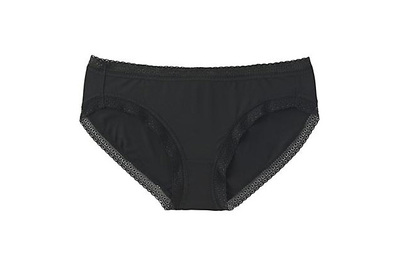 Uniqlo Airism Lace Panties
The same material, but for women.
Good travel underwear keeps you feeling fresh and clean, even when your destination is gritty. To find the best, myself (a former Appalachian Trail speed-run record holder) and filmmaker Miguel Aguilar ordered five pairs of panties and boxer-briefs ranging from $10 to $50 and then traveled 215 miles across the city of Portland, Oregon. We lived out of backpacks the whole time, waking up in a new neighborhood each day and surviving attacks by rain, wind, sun and even a disgruntled local. Trekking 15 miles per day, up and down hills, on pavement, and on trails gave us plenty of opportunities to test our underwear for awkward rubbing, comfort, and fit. It also made the odor test… accurate. By night, we'd hand wash our underwear in bathroom sinks using the technique I perfected backpacking summers across Europe and South Asia. In the end, we found that the Uniqlo Airism Boxer Briefs and Uniqlo Airism Lace Panties were not only the best value but also the best underwear bar none. They dried quickly, took up minimal room and weight in our luggage, and were so comfortable, it almost felt like we were wearing nothing at all.
Whether we were sitting on a bus or walking hills, the Uniqlo Airism felt soft and silky, which made the ExOfficio Give-N-Go Classic underwear I've used for the past six years feel like sandpaper by comparison. The Uniqlo fit was supportive for men—unlike the looser cut on Patagonia's Everyday Boxer Briefs (the replacement for their lauded, but soon-to-be discontinued Lightweight Boxer Briefs)—but not restrictive. And the Uniqlo had a comfortable amount of coverage for both men and women, whereas the Patagonia options we tested literally fell a bit short for both men and women. The coverage aspect isn't about modesty: We found that medium-coverage underwear stayed in place, while skimpier underwear gave wedgies over time. Similarly, the merino pairs we tested tended to bunch up from rubbing against our pants. The Airism underwear was also quite durable and held up through several hand-washing cycles with no signs of wear, whereas the otherwise excellent ExOfficio Give-N-Go Sport Meshstarted pilling along the stitching and areas where our underwear rubbed against pants. This was disappointing, since the ExOfficio option costs about twice as much per pair. The main advantage that ExOfficio has over the Uniqlo is variety. It has the widest selection of cuts, colors, and sizes of any of the brands tested (for men and women), so if you want good performance in a different style, it's a good pick. Otherwise, the Uniqlo's value proposition is hard to beat: Travel gear reviewer Snarky Nomad loved them at $13 per pair, but now they typically sell for under $10.
Smartwool NTS 150 Micro 150 Pattern Boxer Briefs
Superior waist elastic and odor-fighting make this a winner, but they're pricey and dry slowly.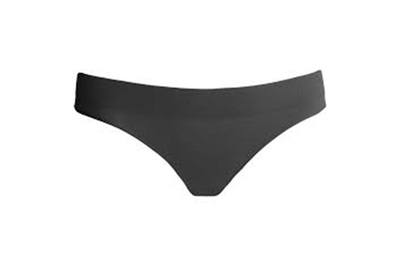 Smartwool PhD Seamless Mid-Rise Bikini
The same material, but for women.
While we think merino wool is an excellent sock material, we don't like it as much for underwear because it dries slower, doesn't pack as compactly, is more prone to bunching, and costs a lot more than synthetic alternatives. This was true of all the merino underwear we tested. But if you want merino for its natural moisture wicking and odor-resistant properties, we like the Smartwool NTS 150 Micro 150 Pattern Boxer Briefs for men and Smartwool PhD Seamless Mid-Rise Bikini for women. In sniff tests, the merino wool's natural anti-microbial properties proved a benefit over its synthetic counterparts. Furthermore, the Smartwools had thick, supple, and comfortable waistbands that felt luxurious compared to other models we tested—especially theIcebreakers, which repeatedly slipped down testers' derrières, despite being sized correctly. Surprisingly, despite having thicker fabric, Smartwool never felt overly hot or sweaty, which speaks to its moisture-wicking prowess. However, it did dry slower than the Icebreaker and Uniqlo options. It's also worth noting that while merino wool lacks the scratchiness of its old-school spun-wool counterpart, for those who have ever had wool sensitivities, a day traveling in merino underpants can still be hellish. -Liz Thomas
Socks
If you've never traveled with merino wool socks, you're missing out. These aren't the scratchy wool socks your grandpa wore in the army; they are soft and stretchy ones that have natural sweat-wicking and odor-resisting properties that keep your toes comfortable under all conditions—even when wet. This combination of odor, moisture, and temperature regulations makes them ideal for traveling. "Because of its natural anti-bacterial properties, washing merino wool on a daily basis isn't absolutely necessary," explains Snarky Nomad, "after letting it air dry overnight while you sleep, it'll seem brand new." The only major downside is that merino tends to be a bit pricier than synthetic counterparts. But it's a worthy trade-off, since you can go for longer with fewer pairs.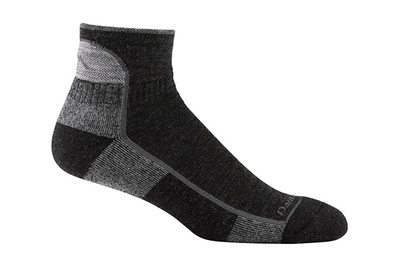 Darn Tough ¼ Hiking Sock (men)
These wick sweat and hold up to wear better than anything else. They have an unconditional lifetime warranty.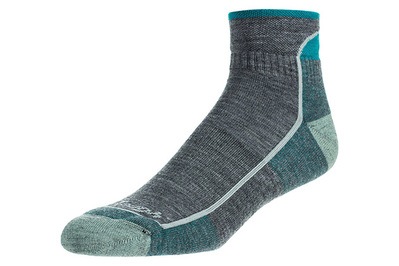 Darn Tough ¼ Hiking Sock (women)
After trying socks from several leading manufacturers while traveling across the country and world over the past several years, Darn Tough's socks have earned my loyalty. Darn Tough made their name through their quality guarantee: "If our socks are not the most comfortable, durable and best fitting socks you have ever owned, return them for another pair, or your money back. No strings. No conditions. For life." Pacific Crest Trail thru-hikers (hardcore backpackers who walk from Mexico to Canada in one continuous trip) praise them for their durability, comfort, and blister resistance. When you hold a pair of Darn Toughs next to a pair of Smartwools (which only have a two-year guarantee), the difference is clear. The Darn Toughs are more tightly knit, the yarns are finer and feel sturdier, and the stitching is tighter—a fact also noted by Jim McDannald in our running gear review.
While I haven't yet owned my Darn Toughs for life, my oldest pair is coming on three years old and I have trouble telling them apart from the newest pair I bought last month. During those same three years, I've worn through the heels of two pairs of Smartwool hikers and runners, had three pairs of Icebreaker ankle socks start to unravel, and developed holes in the heels and toes of six pairs of Stoic trail socks. Meanwhile, the Darn Toughs look as good as new. And unlike cheaper socks you can get from Costco or military surplus stores, they're not so thick that you can't wear them in warmer climates.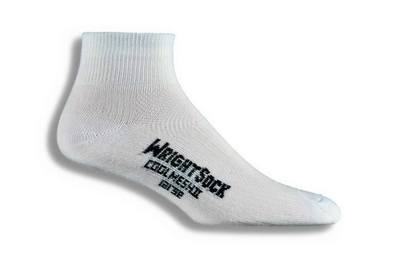 WrightSocks
Not as durable but much lighter and faster-drying. A dual-layer design prevents blisters better than any other synthetic sock.
If you prefer a vegan product, have a wool sensitivity, or if you'd like something a bit cooler and are willing to sacrifice some durability,WrightSocks (both men's and women's sizes at that link) made from synthetic Coolmesh are a great choice (we like them better than Darn Tough's synthetic option, which felt stifling). Like most synthetic socks, they're lighter weight and dry quickly, but what sets WrightSocks apart is their dual-layered design, which prevents blisters by diverting friction between your shoe-lining and the sock onto the inner layer of the sock as opposed to your skin. This combination of blister prevention and light weight makes them particularly popular amongst runners in addition to travelers. Popular women's travel gear review site HerPackingList calls them "the perfect sock for active travelers who will be on their feet for hours or days at a time." Wirecutter A/V editor and part-time travel writer Geoff Morrison switched his whole sock drawer out for these since he started traveling three years ago and hasn't looked back. "I've never gotten a blister, even after walking over 30 miles in a day during the 2014 Le Mans," wrote Morrison in an email interview.
But with the WrightSocks, what you lose in weight, you also lose in durability. After just three trips through a washing machine, both the women's and men's versions we tested had substantial pilling in several locations. Morrison notes that his tend to start looking worn after about six months and that he replaces them about once a year. Also, avoid the dryer if you can because multiple user reviewers state that they'll shrink in the dryer over time. (They dry quickly enough without the dryer that this isn't really a huge issue.) And because they're not merino, they really start to stink after a full day of walking around; bring extra. -MZ
Flip-flops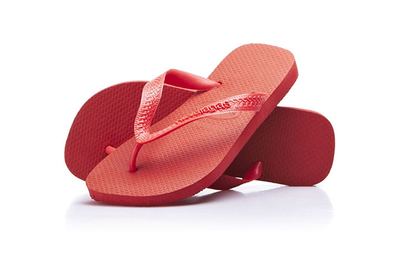 Havaianas Top Flip-Flop – Men's
Durable, grippy, and squeak-free when wet.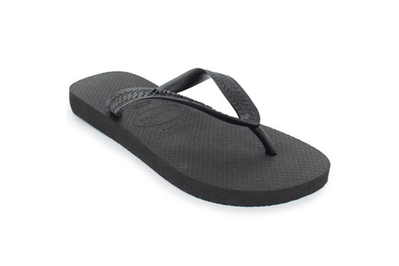 Havaianas Top Flip-Flop – Women's
Same shoe in women's sizes.
A good pair of travel flip-flops should be lightweight, cheap, and flat. That way they're easy to take wherever and it won't matter if you lose them. After testing the super popular Havaianas, Ipanemas, Crocs, and Old Navy flip-flops, our pick is the Havaiana Top (for men and women). These high-density PVC Brazilian classics are world-renowned for their durability, affordability, and reliable traction, even when wet. They weigh just 150 g, compared to the 220 g Ipanemas. They pack down to almost nothing, unlike the big and boaty Crocs. And while other cheap flip flops can get squeaky when wet, the Havaianas stay mostly silent, which is why they're so popular in beach towns all over the world. Ultimately, this is what earned them the pick over our previous pick from Old Navy.
However, if you don't mind a little bit of squeaking and want something a whole lot cheaper, the classic Old Navy flip flops are a great budget pick at less than half the price. They're lighter (148 g), softer, and have shorter straps than the Havaianas, which makes them a bit more comfortable overall. But the squeaking when wet really annoyed us over time—especially when using them as shower shoes. That's why we now think the Havaianas are worth spending a few extra bucks for in most cases. -MZ
Clothesline
While doing laundry at home can be a large weekly event, OneBag author Doug Dyment recommends approaching travel laundry as a part of your daily routine, especially if you're trying to pack as little as possible: "The laundry should be more like cleaning your teeth—something you do everyday. It only takes about five minutes to do it. Every night, do your socks and underwear and you'll have clean socks and underwear everyday."
Going In Style Travel Laundry Clothesline Kit Model GIS-C101
The Flexo-Line attaches easily to a door handle or faucet and grips garments securely between its loops.
Check out OneBag's laundry packing list if you want specific tips on how to do it and what you'll need, but it's a pretty simple setup: All you need is a toiletry bottle of powdered detergent, a towel to help expedite drying, and a travel clothesline to finish the drying process while you sleep at night.
Specifically, you want a braided—not twisted—surgical latex clothesline with looped ends, which means you want a Flexo-Line. The Flexo-Line can stretch up to 7 feet long, which is enough to span most hotel bathtubs, and it has loops that you can attach easily to a door handle, bath spigot, or faucet. The braided construction is superior to twisted designs made from other materials because the latex does a better job of gripping garments securely between the loops, which means you don't need any additional clothespins.
Dyment has tried them all, but Flexo-Line is the one he comes back to. As he explained to me in an interview, "There are others that are fine, but there are far more that are not fine." More specifically, Dyment says to avoid anything that's not made of latex, because clothes will inevitably slip out of them. He also says to never, ever trust a suction cup: "They don't work, period." If the Flexo-Line is unavailable, Dyment says that Rick Steves also makes a nice braided line that is a bit more expensive. If you have a latex allergy, Dyment recommends going with a length of cord (paracord is nice because it's durable and you can use it for other things as well) and stainless steel safety pins meant for cloth diapers, because they take up far less space than a clothespin and won't rust. In fact, it's worth getting these items even if you can use a latex line because they're great for making luggage repairs and performing other MacGyver-ish tasks in a pinch. To hang it up, we recommend using a bowline knot on one end and a taut line hitch on the other. These knots work well together because the bowline creates a simple, slip-proof loop to anchor one end, while the taut line hitch allows you to adjust for tension and locks tightly in place. If you could commit any two knots to memory forever, these are the ones to learn.
Hygiene
Being on the road is no excuse to be sloppy. It's always easier to make a good first impression (especially if you're traveling on business, or to an event like a wedding) than to fix a bad one. It's possible to build a travel hygiene kit out of the same products you use at home, but before you rush to buy a toiletry kit and little bottles, think about your goals for the trip and whether you need all that. If you're traveling for business, you want to make sure you have everything to freshen up and look your best. But problems can arise when you feel the need to bring a bunch of stuff for leisure travel. Dyment laments that many travelers make the mistake of trying to bring all the comforts of their homes with them when they go on vacation—the hotel's provided washcloth might not be your favorite, but it will be good enough. He remarks, "What's the point of even leaving if you're just trying to feel like you're at home anyway?" So the next time you're going on vacation, think about leaving the fancy (and heavy) liquid hair products and grooming tools at home.
Toiletry kit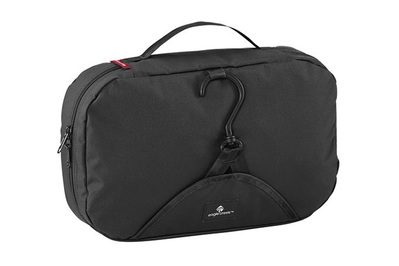 Eagle Creek Pack-It Wallaby
It still beats competitors with its large swivel hook and three-tiered hanging structure, which includes a removable see-through pouch.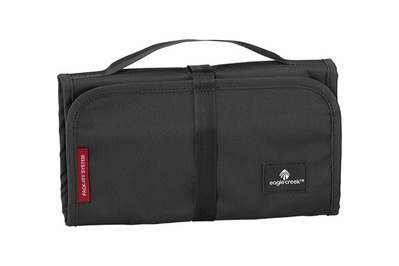 For shorter trips and light packers
Eagle Creek Pack-It Slim Kit
This envelope shaped kit easily stores enough travel-sized essentials for a two-week trip and includes many of the winning design features of the Wallaby.
Hundreds of toiletry kit options exist, but an elite few make hauling your bathroom essentials along a pleasurable and organized experience. We tested six larger-sized toiletry kits, stuffing them with the same battery of full and travel-sized items typically packed on a week-plus long trip, zipped them up, shook them around and hung them up for use. In the end, the neatly compartmentalized three-tiered hanging format of the Eagle Creek Pack-It Wallaby stayed our top pick.
We like its generously-sized black plastic swivel hook, which tucks into a retaining tab for storage (unlike the Maxpedition Tactical Toiletry Kit, which just has a loose, dangling hook) and  accommodates large and small towel bars (it can even fit over a door frame in a pinch). Because it unfolds vertically, its three ample tiers of mesh storage makes everything fully visible and easily accessible when you hang it. A lot of otherwise excellent toiletry kits, like eBag's Pack It Flat Toiletry Kit, have pockets that you can't see into unless you open them up. Another thing we liked about the Wallaby in comparison to the eBags was that it hangs straight due to its vertical orientation. The wider eBags had a tendency to tilt towards the side that contained more weight.
The Wallaby's storage options are ample and varied. Its large top zippered mesh pouch fits travel-sized bottles and full-sized ones (if you lay them horizontally). The central compartment includes three open pouches and another zippered space. The bottom compartment is a removable see-through pouch perfect for the five or so small items you want to carry on. The Wallaby also includes a removable mirror. It folds up into a smooth easy-to-pack rectangle 13 inches by 8 inches, about the same size and shape as a small laptop. And weighing just 8 ounces, it's about half as heavy as the otherwise-excellent L.L.Bean Hanging Toiletry Kit.
The durable but thin micro-polyester weave and the double-reinforced stitching along most major seams of the Wallaby are good indications this kit will last for years, unlike the Lewis 'n Clark Hanging Toiletry Kit, which costs less than $15 and feels like it. The interior clear plastic pouch of the Lewis 'n Clark kit we received was already scratched enough to appear worn. Its nylon exterior was stiff, the zippers were thin and flimsy, and the plastic was buckling and weak.
If you don't need to take the whole medicine cabinet with you on the road, or are comfortable with using all travel-sized toiletries (less than 3.3 ounces if you're following the TSA's definition), we recommend Eagle Creek's Pack-It Slim Kit. The Slim Kit is in the same Pack-It line as the Wallaby and features the same oversized hanging hook and mirror. It also has three tiers of compartment space; they're just a bit smaller, which is good for people who wouldn't otherwise be able to fill the Wallaby. That said, you'd be surprised at how much it can fit. Even when stuffed with nine bottles of various liquids and gels, dental floss, chapstick and a contacts case, it still conforms nicely into an envelope shape about the size of a car's sun visor. User reviewers' most common complaint is that it won't fit if you use non-travel bottles, but if that's what you want to carry, you should get the full-sized Wallaby. We had no issues closing it despite packing it to the gills with travel-sized bottles. The Pack-It Slim's seaming and shape gave it a more structured and secure feel when closed than the lighter Sea to Summit's Traveling Lite Toiletry Bag, which bulged when we filled it with exactly the same load. -Meghan Miner
Toiletry bottles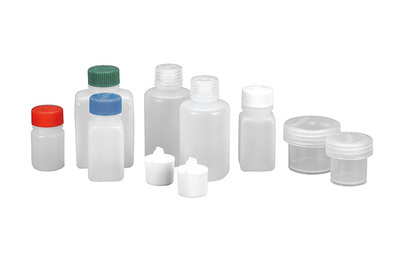 Nalgene Travel Kit
Nalgene travel bottles are dishwasher-safe, leakproof, and durable.
The eBags 3-1-1 Nalgene Travel Bottle Kit in medium is your best bet for traveling with liquids in your carry-on. The bottles don't have many frills, but their strength is in the thick-yet-supple, dishwasher-safe plastic that made the brand's water bottles famous. While most bottle kits just include a few sizes, this one includes bottles of different designs for different purposes. They range from large, squeezable ones for shampoo or soap with optional squirt caps to squared-off flasks that work well for mouthwash or other liquids to tiny little jars that are perfect for storing medications. Just note that the kit's larger 4-ounce bottles are not technically allowed by the TSA—but we've never run into issues with that in a year of traveling with them, nor have the 141 customer reviewers that give the kit a 4.4-star average rating.
A cheap alternative if you find yourself in IKEA is the Upptäcka, which costs $1.50 for a four-pack in stores only. However, they don't feel as nice to squeeze and can be a hassle to get if you don't live near IKEA. They're available on Amazon for about $9 for eight, but at that point, you might as well shell out the extra dollar for the nicer Nalgenes.
Something to think about while you're filling up these bottles for your next trip is whether you actually need the liquids that you're bringing. Dyment told us that he's been flying liquid-free since before the liquid restrictions hit simply because "they're inordinately heavy, can leak on your stuff, and make you a target for the TSA." But that's not to say that he's been traveling without soap. He explained that everything you'd want in liquid form is also available as a solid or powder—even shampoo andtoothpaste, which we hope to test for a future update. We no longer recommendHumangear's GoToob silicone bottle, since so many common products—including mouthwash and many shampoos—react with silicone. – MZ
Disposable razor (faces)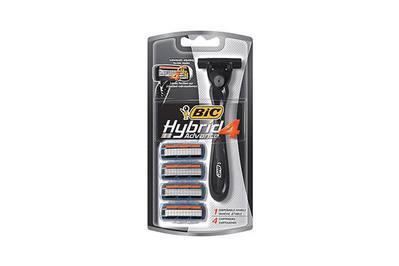 BiC Hybrid Advance 4
They're not the most environmentally friendly option, but disposables are light and good for travel. This four-bladed razor has comparable shaving performance to the Mach3 and a comfortable handle.
*At the time of publishing, the price was $7.
It's risky to take double-edged razors on a plane, so disposables are a solid alternative. They are light, can be used multiple times, and give a surprisingly good shave. We researched and tested 100 manual razors for our full razor guide, concluding that theBiC Hybrid Advance 4 is the best "disposable" razor for travel. (It's technically a cartridge razor, but we consider it a disposable since you can't buy standalone cartridges without a handle.) For under $10, you get a handle and five blades, which is a pretty good deal. It offered a close shave comparable to more expensive Gillette models for most of our 10-person testing panel and was one of the reporter's personal favorites. The BiC also has an easy-to-grip, ergonomic handle. If you want a more substantial cartridge razor, the Gillette Mach3 Sensitive Power Razor is our top pick for manual razors. It performs comparably to the latest and greatest offerings but can be had for as little as half the price. While we originally viewed the vibrating handle as a gimmick, most of our testers ended up liking the feature. Our panel ultimately felt the vibrating handle added a smooth glide that made shaves more comfortable, just as Gillette claims. -MZ
Disposable razor (legs/body)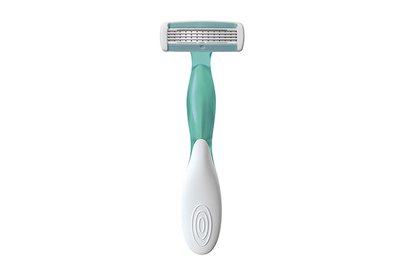 Bic Soleil Bella
We like the BiC Soleil Bella for its swiveling, lubricated head and sharp, flexible blades.
Disposable razor cartridges are fine to take through airport security. But if you don't want to carry your reusable handle on a trip, or if you forget your razor and need to buy a fully disposable razor in a pinch, our pick is the BiC Soleil Bella ($3 for three at the time of writing). Out of the five top brands we tested, we love it best for its swiveling head; its four sharp, flexible blades; and the fact that it has just enough lubrication to help the head glide without making skin too slick to get a close shave. Unlike the Venus Embrace disposable, it won't leave weird goop melting off the head on a wet shower shelf (or in your toiletry bag). The BiC Soleil Bella's cover slides on from the side instead of clipping on from the front, so it stayed put in a drop test while the others popped off. As a bonus, the cover is tinted, not completely clear, so you can see it when you drop it on a white shower floor (even when you are hard of seeing). The Venus Sensitive Skin came in second place, but the clear head cover popped off and broke during the drop test, leaving me on a bat-blind hunt for it for five minutes. In our tests, the Schick Hydro Silk was too wet and too frictionless for short stubble. Running about $1 per razor, the Bic Soleil Bella is in the middle of the price range (the Schick and the two Venuses are about $2.60 per unit; the BiC Silky Touch costs 30 cents per unit), but I'd pick it over the others even if it were the most expensive. How much use you get out of your razor depends on your hair and how often you're using it, but try to keep the blades dry when not in use. Gillette claims its razors have lasted for five weeks; we think one razor for a weeklong trip should be fine. –Ganda Suthivarakom
Towel (packable)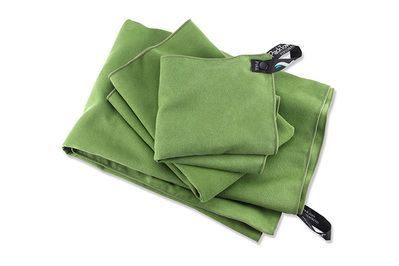 PackTowl
The PackTowl Personal Towel is lightweight, soft, absorbent, quick to dry, and odor-resistant.
We put seven top-rated towels through a battery of tests including regular shower use, a trip to the beach and a 48-hour stay in a ziplock bag under the hot Hawaiian sun. After all was said and done, the Packtowl Personal Towel is still the best all-around travel towel for most people. In addition to being the softest lightweight towel we tested, it was more absorbent than competitors made of similar materials. It had the best odor-resisting abilities and comes with a convenient mesh carrying pouch. We also have alternate picks for ultralight and all-natural towels below.
The Personal Towel's suede-like material was the softest of the thinner towels. The waffled material of the REI MultiTowel felt softer, but it was also heavier and dried more slowly. The Personal Towel also had superior absorption when compared with other similarly-constructed towels such as the Eagle Creek TravelLite, the Sea to Summit DryLite and the Shandali UltraSport—in our tests, it absorbed 2.8 times its weight in water, while the others absorbed between 2.3 times and 2.7 times.
One of just two we tested that featured an added antimicrobial treatment, the Personal Towel was only a little musty smelling after 24 hours in a sealed ziplock bag, and remained unchanged at 48 hours. The same could not be said for its test mates—most notably, the otherwise excellent Eagle Creek TravelLite, which smelled like used gym socks at 48 hours.
The two PackTowl models we tested also had the best travel pouches of the bunch we tested. They were the only ones with zippered closures, which reduce the risk of snagging, unlike the velcro closures on the REI and Sea to Summit pouches. And like most of the pouches, the PackTowls have a loop so you can clip it on the outside of your luggage to dry if it's still moist.
If the PackTowl Personal is unavailable, Sea to Summit's DryLite Towel is a solid alternate if you get it in a light color like Eucalyptus. (The Cobalt-colored towel we tested bled dye through several uses—even after running it through the washing machine.) The DryLite has a similar feel and hemming to the Packtowl Personal and sports an effective silver ion antimicrobial treatment. It was comparably soft and smell-resistant to the Personal Towel, but it only absorbed 2.3 times its weight in water and costs almost twice as much at any given size.
If you want something a bit more stylish and eco-conscious and you're willing to pay a premium, the Outlier Grid Linen towel is a good choice. It's made of 100-percent linen, which gives it a more "natural" feel compared to the slightly-slick feel of the artificial towels. It dries as quickly and resists odors just as well as the artificial towels. But linen's resistance won't fade over time, since it doesn't rely on an additional treatment. It absorbed 2.4 times its dry weight in water, which made it superior to even the runner-up Sea to Summit DryLite. It's also the widest towel, measuring 36" across compared to the roughly 25-inch widths of the others. However, at 296 g, the Outlier Grid Linen was considerably heavier than the microfiber towel lineup, whose weights ranged from 129.5 for the smaller-sized Shandali UltraSport to to the heaviest REI MultiTowel at 269.5 grams. And, while it does sport a hanging loop, the Outlier Grid Linen doesn't come with a pouch. -MM
Flying/riding
Regardless of how you get to your final destination, it's likely you'll be stuck in a seat that's less than ideal. Travel gadgets that claim to reduce this misery, such as compression socks, are popular. But when they take up precious luggage space for the duration of your trip—not just the flight or train ride–they need to be worth every cubic inch of space. The less you can make do with, the better off you'll be.
Neck pillow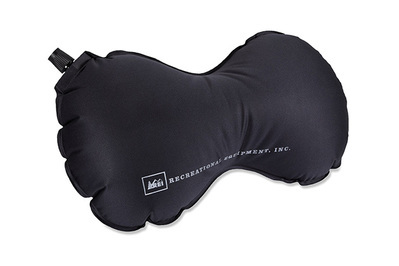 REI Self-Inflating Travel Pillow
REI's self-inflating pillow is easy to store and even easier to inflate.
In-transit shut-eye can be elusive without the right equipment. We originally tested five top-rated pillows on a five-hour flight while sitting in an aisle seat and another four pillows this year to find a better U-shaped alternative for those who want more support. None of them were truly great for the price, but the REI Self-Inflating Travel Pillow was the least-bad offender because it did offer some improvement in comfort and can compress enough to at least consider justifying taking it on longer flights.
Unlike the fat hemidonuts people strap onto their bags, REI's pillow packs down into a drawstring bag to the size of a roll of toilet paper. When you open the valve, it inflates on its own. It has the right amount of firmness, and its ideal peanut-shell shape fits well in the crook of your neck, with the two bulbs on either side supporting chin drop. One side has rubbery non-skid lines so the pillow stays put on your shoulder, and the whole thing is hand-washable. This pillow won't magically make you sleep better on the plane or keep you from needing to change sleep positions, but it's got the best support for the smallest package. And unlike other inflatable options, which become useless if they spring even a small leak, the REI will still work if a hole develops, because it's filled with foam in addition to air. Despite the filling, it still weighs only 138 g (just under five ounces), which is two and a half times less than what a foam-only pillow weighs.
TravelRest Ultimate Memory Foam Neck Pillow
It conforms to your neck and shoulders, features a slip-resistant back and compacts to a quarter of its size.
If you prefer something with more support, we recommend a hemidonut pillow. Out of the four top brands we tested, theTravelRest Ultimate Memory Foam Neck Pillowoffered the best neck support when traveling on seats with and without a headrest and folded up into a very compact package. Like the REI, it compresses into a stuff sack about the size of a roll of toilet paper, but at 369 g (or about 13 ounces) it's almost three times as heavy.
The Travelrest is made of memory foam wrapped in soft and comfy velour, but the real support comes from its thick side walls, a grippy backing that clings to the seatback and prevents it from slipping, and a contoured bottom edge that rests comfortably on the shoulders. There's even a neck crevice with space for long hair or a ponytail. These features set it apart from the otherwise excellent Cabeau Evolution Pillow, which is made of a similar material and also packs down quite small, but lacks these thoughtful features.
In general, we found that the velour-wrapped memory foam pillows were more supportive than pillows made with other materials. The Original Comfy Commuter Travel Pillow is filled with lighter cotton and polyester, which was paradoxically too soft to offer substantive neck support and less compressable than the memory foam pillows. We also didn't like that the Comfy Commuter's chin strap—intended to keep your head from falling forward—not only fails to do that, but also made our tester's neck feel constricted anytime her neck did move. We found the air-filled Sea to Summit Aeros Pillow Traveller to be similarly lacking. We liked how easy it was to fill—its dual valve inflation mechanism means it won't let air out between breaths—and we appreciated that it weighed only about a fifth as much as the Travelrest, but the Travelrest's 360-degree support made it too hard to go back to an open-ring design that offers no support in the front. Overall, the Travelrest offers the best support while still packing down to a manageable size. We think that's worth a bit of a weight premium. -MM
Noise-cancelling headphones
Bose QuietComfort 20
The Bose QuietComfort 20i cancel out noise by 45 decibels, which drowns out all unwanted background noise.
One of greatest luxuries you can have on any trip is silence. Whether you're on a plane or escaping from a hotel's noisy air conditioner, noise-cancelling headphones can offer a blissful level of quiet. After conducting subjective listening tests across 24,000 miles worth of in-flight testing against nine other models (after considering two dozen), we like the Bose QuietComfort 20i in-ear headphones best for their ability to reduce ambient noise by a remarkable 45 decibels. Their over-ear counterparts, the QuietComfort 25, are nearly as good, but they're comparatively huge. Travel guru Rob King likes the performance of his QC 15s (our former pick and the predecessor to the QC 25), but laments their size. "I leave them behind on anything less than a five-hour flight as they're too bulky," said King. Both models are $300, but there are cheaper, albeit less effective, options in each article. -MZ
Earplugs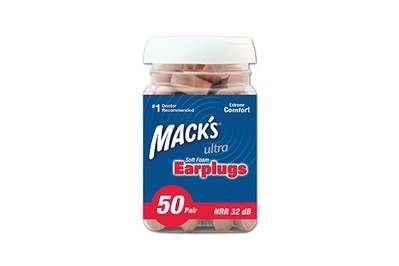 Mack's Ultra Soft Foam Earplugs
These extremely comfortable earplugs have a noise reduction rate of 32 decibels and are among the cheapest you can find.
When you're traveling, it can be difficult to fall asleep to unfamiliar noises. That's why we spent several hours researching new contenders and tested 4 top-rated models while sleeping in a house that was next to an airport in order to determine that Mack's Ultra Soft Foam earplugs are the best earplugs for most travelers.The Mack's 32 dB noise reduction rating was one of the highest among the models I tested. According to Cooper Safety, that's enough to reduce the volume of a gas lawnmower to that of a normal conversation. What made the Mack's earplugs so effective is the fact that I could insert them and rest assured that they would stay in the whole night. Meanwhile, the Howard Leight LPF-1 and MAX1 might be favorites from crowdsourced sleep-aid review site Sleep Like the Dead, but they would inevitably fall out in the middle of the night. Thus, they failed to block out the noise of planes landing and taking off throughout the night, despite the MAX1's 33 dB noise reduction rating. The Howard Leights also made my ears ache on occasion, whereas the Mack's has a tapered shape that was consistently comfortable night after night.
The Mack's Ultra Soft Foams cost about 16¢ per pair, which is typical. But what's atypical is that you can buy the Mack's earplugs in a 50-pair pack. They come in a plastic case is about the size of a large coffee mug, which is small enough to toss in a large bag or suitcase. Many other ear plugs like the 3M OCS1137 Classic can only be ordered in industrial-size lots that, while perhaps appealing to those who travel constantly (or run a hostel), are annoying to store and often lack a reusable container of any sort. Our previous pick, the Hearos Xtreme, has to be ordered in packs of 42 divided between three separate, disposable cardboard packages. (Additionally, Hearos changed the Xtreme's formulation so that they're no longer as comfortable as when we first reviewed them.)
We're not the only ones who like the Mack's Ultra Soft Foam earplugs either. While they aren't covered by Sleep Like the Dead, nearly 1,000 Amazon reviewers agree that they're a great choice for a quiet night's sleep; they're the best-selling earplugs on Amazon at the time of writing.
There are a few nits to pick, though. While the Mack's Ultra Soft Foam earplugs are very comfortable, it can take a couple of tries to insert them properly. They're also not explicitly reusable, but I found that they can be used more than once without getting gross or ineffective. –Erica Ogg
If you use earplugs daily and you're willing to shell out some cash for great comfort, you should consider custom-fit models. Custom earplugs don't block more noise than well-sealed foam earplugs, but they're a lot more comfortable—especially for side sleepers due to their lower profile. Wirecutter writer Dan Frakes been using a set fromACS nightly for more than five years, and they're still working great. They've been well worth the price of around $150—including the audiologist appointment that's necessary for taking the custom molds. After wearing them a couple times, he now barely notices when they're in anymore—except for the blissful reduction in noise. It's worth noting that ACS recommends redoing your impressions and getting new molds every five years because your ears keep growing into adulthood, but Dan's are still going strong five years in and counting. -Erica Ogg & Dan Frakes
Eye mask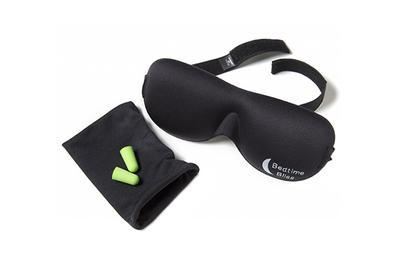 Bedtime Bliss Eye Mask
The Bedtime Bliss doesn't put pressure directly on your eyes, which makes it more comfortable for extended wearing. It's also the lightest mask we tested.
If you are a light sleeper, we recommend the Bedtime Bliss to keep light out of your eyes while you doze off. Not only was it my favorite mask out of the six we've tested in the past two years, it is the top-rated sleep mask on Sleep Like the Dead's crowdsourcedsleep mask leaderboard and the bestselling mask on Amazon, where it maintains a 4.5-star user rating averaged over 1,632 ratings as of this writing.
What sets the Bedtime Bliss apart from most sleep masks is its sculpted, structured design— it's contoured to rest on your face like a pair of soft goggles with fabric lenses that sit around your eyes (instead of directly over them). This contoured design won't fit everyone, but based on the overwhelmingly positive user reviews, it does seem to fit most faces, including my own Asian face, which lacks a bridge. Weighing in at 16.4 grams (without the ear plugs or stuff sack), it weighs half of the next-lightest model we tested and less than a quarter of the comparably gigantic Sleepmaster. As a bonus, it comes with a small stuff sack for storage and a sample set of earplugs (which aren't as good as our pick). If we have one complaint, it's with the rough-feeling elastic strap that can rub against your ears. Over time, you'll get better at finding the sweet spot where it doesn't rub, but all bets are off once you start tossing and turning. The strap adjusts via velcro, but it has a fairly short maximum length. If you wear a hat that's larger than size 7.5, it's going to fit a bit tightly.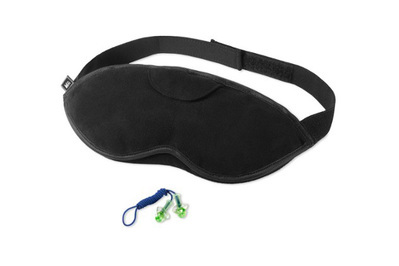 REI Lightweight Eye Mask and Earplugs
REI's sleep mask has a softer feel and nifty built-in earplug storage. But it does press directly against your eyes, which can get hot over time.
If the Bedtime Bliss isn't available, or if it doesn't fit your face, REI sells a good version of the traditional sleep mask design for around $13 at the time of writing. It has a longer and marginally softer elastic strap with a buckle-sliding adjustment mechanism, like a backpack strap, and it also has a convenient earplug storage pocket in the bridge of the nose (though we don't recommend using the included earplugs; they're nearly useless for blocking sound). Wearing the REI is more like strapping a soft pillow to your face. It's very soft and fairly comfy, though we did see a bit more light leakage than we did with the Bedtime Bliss. Overall, it's pretty good, but it weighs twice as much as the Bedtime Bliss and doesn't come with a stuff sack, which means it can get dirty easily. If you like the pillowy feel of the REI and want that to extend all the way around your head, you can look into the Sleep Master. The Sleep Master is basically one long satin-wrapped pillow that secures to your head via velcro, feels really nice against the skin, and does a good job blocking light. However, all the volume around your head can get hot and stuffy, which is a dealbreaker on a warm flight or train ride. The Sleep Master is also comparatively huge, packing down to the size of a large coffee mug; the others can be jammed into any pocket. In 2014, we also tested the Bucky Luggage 40 Blinks and the Dream Essentials Escape, but we were unimpressed by their straps. -MZ
Sleeping bag liner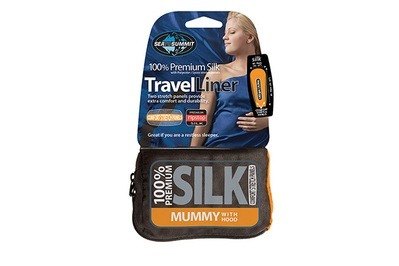 Sea to Summit Premium Silk Travel Liner
The Sea to Summit silk liner wicks moisture, doesn't retain smells, packs down to the size of an apple, and even weighs less than one. It makes scratchy motel and hostel linens a lot more bearable.
A silk sleeping bag liner is a great way to insulate yourself from scratchy, cheap, poorly maintained linens you might find at a hostel or motel. On top of the obvious bling appeal of sleeping in silk, it's the best performing material, too. Outside Magazine'sGear Guy columnist explains: "Silk sleeping bag liners are the nicest [because] they're soft, compact, add a little warmth to a sleeping bag or bed, and can be used as a stand-alone sleep cover in very warm climates. They also wick moisture and dry quickly." This makes silk superior to cotton, which becomes uncomfortable as soon as it gets moist, and synthetics, which retain smells more readily. Silk is also super strong, and its light weight means manufacturers can give you full body coverage in a compact package.
Our favorite is Sea to Summit's 100% Stretch Silk Liner, which we bought after researching all the options three summers ago. It's held up great ever since, accompanying us to trips across China, Southeast Asia, Mexico, Japan, and Hawaii, and on camping trips up and down the West Coast of the United States. It's available in a variety of sizes, including regular, long, and even double for sharing. Whichever you pick, it will pack down to about the size and weight of a medium-sized apple. You won't need it everywhere you sleep, but you'll be glad you have it the next time you run into a set of scratchy sandpaper sheets at a cut-rate boarding house. (We have also used this for sleeping on long plane flights with great success.) Cocoon is the only other option when it comes to 100 percent silk liners backed by a real company with a warranty, but those come in only one size. The length of 95 inches is enough for anyone, but that's a lot of excess material for people who aren't tall. -MZ
Connecting
Having internet access when you're in unfamiliar surroundings can be invaluable. Wirecutter general manager Chris Mascari flies about 70,000 miles a year, and he made a great case for connecting whenever possible: "No matter where I'm going in the world, I always like to have a working smartphone with lots of data to use. It's so world opening to have the power of the internet in my pocket when in completely unknown places." Maps alone can be worth the cost, not to mention the ability to access countless recommended local spots and itineraries with just a few swipes. Check out our Mobile Extras section for reviews of the best battery packs, cables (Lightning and Micro-USB), LTE Hotspots, Bluetooth speakers, and more.
Unlocked mobile phone
One of the most useful gadgets for international travel is an unlocked smartphone that's compatible with cheap, prepaid phone plans you can sign up for at your destination. Unless you're on a T-Mobile Simple Choice plan (which includes free international data and texting in more than 120 countries, though calls are 20 cents a minute), traveling with a phone under contract with a major carrier means paying steep roaming fees for texting, calls, and an arm and a leg for data. Being able to access data-guzzling apps like Google Maps or Google Translate on the fly is worth the hassle to unlock a phone. Facebook Messenger is a free, easy way to communicate with people you meet on your trip. Plus there's checking email, TripAdvisor, banking, and so on.
An "unlocked" phone means you can buy prepaid SIM cards in the country you're visiting, letting you access their local network for significantly less money than the roaming fees incurred by your home carrier. With a prepaid SIM, your phone effectively becomes a new phone with a new (now local) phone number. Instead of seeing "Verizon," "AT&T," or "Sprint" at the top of your phone, you might see "Vodafone," "Yes Optus," "M1," or whatever provider you choose in the country you're visiting. The first thing to check is if your phone will work where you're going. There are two main technologies that mobile phones need in order to communicate with cell towers: CDMA and GSM. Sprint and Verizon use CDMA, while most other providers are GSM. Internationally, GSM is much more widely used, though there are some significant exceptions (especially China). If you have a fairly late-model, higher-end phone (iPhone, HTC One, etc.), it can likely work on GSM and CDMA networks. If you're unsure if your phone will work where you're going, check the Wikipedia page for your phone or contact your provider.
Your phone will also require a removable SIM (which most newer phones have). Most countries require a passport or other ID to buy a prepaid SIM without a contract, but switching the SIMs is easy. Most stores will do it for you while you're there. Depending on the country/provider, this could take as long as 10 minutes but is often faster. The next question is easily the most complicated: Can you unlock your phone? Each carrier has different rules and criteria. Generally, if you have a brand new, expensive phone, they may not let you unlock it (there's usually a waiting period after the purchase date). But if it's a little older, or if you've completed your two-year contract, they probably will. The thing to remember is that a provider can deny an unlock request without giving a reason. You might be lucky, though; certain phones on certain providers (the iPhone on Verizon, for example) are unlocked by default. Here is Verizon's page on unlocking (#11 – generally if it's a 4G device, it's already unlocked), AT&T's page on unlocking, and Sprint's page on unlocking (additional hoops for international travel at the bottom). Alternately, you can buy a pre-unlocked phone just for travel. Amazon and Best Buy, for example, sell unlocked phones. This is also a good option if you think you might lose your expensive phone and a cheaper one will suffice while you travel. –Geoffrey Morrison
Plug adapter
Bestek [World Set] International Travel Worldwide Plug Adapter Set
This converter pack allows you to plug in your devices anywhere there's a plug and grips your device tighter than others we tested.
If you're traveling internationally and need an adapter so that the plug on your electronics fits into local outlets, we recommend the Bestek [World Set] International Travel Worldwide Plug Adapter Set. Its snug fit makes it safer than other comparably-priced kits and all-in-one adapters, which have a tendency to fall out of outlets. The kit is priced low enough that anyone with plans for future trips can get all eight and just pack the ones needed for a specific trip. If you're really looking for a specific adapter,three-packs of single styles are available for about half the price of the eight-piece kit.This chart can help you find the shape you need before you order.
The Bestek set includes eight adapters that fit grounded outlets in dozens of countries and accept almost any plug, too. Even though the adapters use the same plastic housings as the Ceptics adapters (our former pick), the Besteks stood out for snug and secure connections, even when we tried them with a heavy power brick. It was also much tighter than the all-in-one units we tested (and much less bulky). This is crucial because when a plug droops and loses contact with an adapter, it can create a potentially dangerous situation—think sparks, fire, locusts, and frogs. We broke the Besteks open to see what set them apart from the looser adapters and found slightly stiffer metal brackets than those of the Ceptics.
We recommend a grounded, three-prong kit because it's the safest and most versatile option—they can accept two-prong plugs, but a two-prong plug cannot accept a three-prong. However, just like in the US, some older buildings may not be updated to accept a third prong, which would make the Bestek adapters useless. If that seems like a strong possibility after reading about other people's experiences, pick up the two-prong BoxWave Complete International Outlet Plug Adapter Kit. You can't use most with three-prong devices, but most phone and camera chargers should be fine.
Whether two-prong or three-prong, an adapter just changes the shape of your plug, not anything about the electricity coming through the wires. However, this usually isn't a problem because almost every power brick that comes with modern electronic gear is capable of accepting both the 110-volt standard used in the US and the 240-volt commonly used abroad. If your device has a power block on the cord, it likely says something like  "100-240 V ~ 50/60 Hz"—that's the all-clear to use it without a voltage converter so long as the range covers the voltage of the country you're visiting. This includes the vast majority of modern laptop and USB chargers. Products without some sort of power block at the end or with a non-detachable cord—in particular, things with heating elements like hair dryers and curling irons—are more likely to need a voltage converter. Putting 220 V through a US 110 V device would be like attaching a firehose to a drinking fountain—you're likely to blow your face off. But voltage converters are tricky devices, and most of the inexpensive ones have awful (or dishonest) reviews. Since hotels and hostels will often have hair dryers and most newer gear can do the full range of voltages, we strongly recommend that, whenever possible, you only bring items that work with a much simpler (and more reliable) adapter. -Mark Smirniotis
Wire/gadget organization system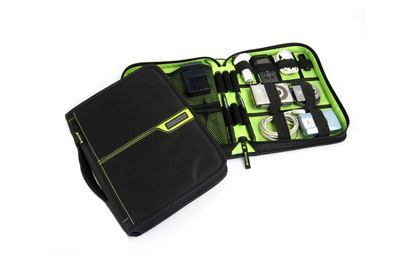 Skooba Cable Stable
You can jam-pack it with everything from cables to loose batteries to a Kindle and rest assured that nothing will budge.
Now that every device has a battery, every battery has a charger, and every charger has a cable—never mind power plug adapters if you're traveling abroad—the sheer quantity of accessories needed just to keep your gadgets running can take up more space than the devices themselves. And unless you organize them, you can bet on having to blindly fish them out of the least convenient spot at the bottom of your bag. After loading our tech essentials into five more accessory organizers for a total of 10 over the past three years, we maintain that the Skooba Cable Stable DLX is our pick for best gadget organizer.
The Cable Stable DLX's zippered book design maximizes both covers as well as the spine. The right side features eight elastic loops, which "float" between stitches so that a single elastic band becomes three separate loops. As you stretch one elastic loop, its neighbor tightens accordingly. This automatically distributes the elasticity to where it's most needed, allowing thicker items to be held securely without overstretching the band. On the left side, the Cable Stable features two elastic mesh pockets, one large zippered pocket. This zippered pocket is crucial for preventing small things like SD cards from falling out and getting lost in the shuffle; it's missing from some cheaper models. On the center binding, you'll find more elastic loops for up to six pens/styli/icepicks—most binder-styled organizers, like Eagle Creek's Etools Organizer, don't use this space at all. On the outside, there's a zippered pocket will hold a small tablet or e-reader and there's a handle along the edge of the binding so you can tote it like a lunch box.
In addition to its great interior organization, the Cable Stable's build quality handily beats out everything else we looked at. Its stiff covers offer more protection from drops better than most other ones we tried, like the runner-up BUBM Travel Gear Organizer. And it uses smooth-zipping YKK zippers throughout, unlike the snag-prone Butterfox. For those who travel lighter, the Cable Stable Mini offers similar build quality and organization in a smaller package.
Our runner-up is the BUBM Travel Gear Organizer because it offers comparable organization at about two-thirds of the price. But it isn't built as solidly as the Skooba Cable Stable and doesn't have as much protective padding. The BUBM holds a comparable amount to the Cable Stable in its two zippered mesh pockets, three thumb drive sized mesh pockets, and 12 elastic straps (which do not float like our top pick's straps). It's worth noting that the mesh is finer and looks less less likely to snag than our top choice, and the organizer is quite a bit lighter. But overall, the more-polished and protective Skooba Cable Stable is the better buy. -JC
Exploring
If you're traveling for leisure, try not to get too wrapped up in technology because you might miss what you're actually there to do: experience a new place. OneBag's Doug Dyment said in an interview, "Wearing headphones and staring at a screen is like putting a digital wall around yourself when you're traveling. It makes you seem unapproachable and uninterested in what's around you." That may be a good thing if you want to be left alone while traveling for business, but Dyment went on to say that some of his most memorable traveling experiences were the result of just looking lost and getting help from the locals. "One minute, you're a lost foreigner in an unfamiliar village, then someone asks if you need directions. Before you know it, you're eating dinner with his family and he's introducing you to his sister." On second thought, maybe that digital wall isn't such a bad thing after all…
Travel binoculars
Nikon Trailblazer
The Nikon Trailblazer binoculars are waterproof, compact, light, and accurate.
Our top pick for binoculars is great for near-home hikes, but for travel, we're willing to sacrifice some clarity and stabilization for a body that's lighter and more compact. After talking to several hunting and outdoor experts, we reviewed many models for less than $200, seeking a versatile, durable pair with a good warranty for viewing wildlife. We asked Milan G. Bull, senior director of science and conservation for the Connecticut Audubon Society, to take our top two models out for a spin. He compared field of view, clarity, and brightness by observing water birds along the shore, in patches of grass, and in darkened areas of the forest.
We recommend the Nikon Trailblazer 8×25 binoculars. These are waterproof, so they won't get permafogged, and they have a wide field of view of 429 feet at 1,000 yards. They are roof prism binoculars, which are generally not recommended at this price point, but Bull found them "okay in low-light conditions" and brighter than our other recommended top model. And the Trailblazers are super easy to pack at only 4.1 by 4.5 inches and 10 ounces. They come with a case, a strap, and a limited lifetime warranty in case you get a dud. If you're looking for something with more clarity and don't mind a narrower field of view and a bit more bulk, the Pentax Papilio 6.5×21 came highly recommended by Wayne Mones, former vice president of the National Audubon Society. "They are great for looking at architectural details, sporting events, concerts, and scenery. They were designed for observing butterflies and have a close focus of 1.6 feet, which makes them like a pocket microscope," he told us. Bull thought they were slightly crisper than the Nikons. These come with their own strap, lens cap, and case. While they aren't waterproof, they do come with the Pentax "Worry-Free" Warranty [PDF], which allows for repair or replacement (even with at-fault damage) for $20 to cover shipping and handling. -MZ
Travel credit card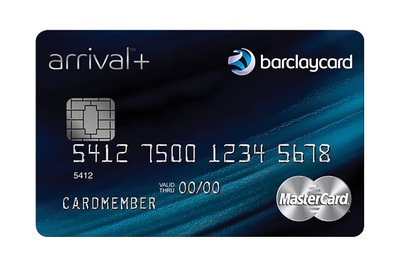 Barclaycard Arrival Plus World Elite MasterCard
A credit card is accepted at more places more securely during travel abroad, and this one avoids foreign transaction fees.
If you're looking for a credit card that you can use to earn travel rewards with the least amount of fuss, avoid foreign transaction fees, and pay at more places more securelywhen traveling abroad, we recommend the Barclaycard Arrival Plus World Elite MasterCard. In addition to the current 40,000-point signup bonus worth $400 in travel credits (activated after you spend $3,000 in the first 90 days), the card earns two points that don't expire for every dollar spent—enough for most people to balance out the $90 annual fee (waived the first year) and far more than the 1 to 1.5 points per dollar most competitors offer.
The Barclaycard allows you to book the best travel deal you can find through any site and get a statement credit back at 100 points per dollar. That means if you're spending an average of $1,000 per month on the card, you can expect to earn 24,000 points in a year, which equals $240 worth of travel credits. When redeeming, you'll also get a 5 percent points rebate—so if you spend 50,000 points on a $500 plane ticket, for instance, you recoup 2,500 of those points back into your rewards balance. Even though that's less than the 10-percent rebate the Barclaycard offered in the past, that's still enough for it to barely edge out the CapitalOne Venture card, which offers a similar 2-points-per-dollar reward scheme without the rebate. And that's taking into account the $30 difference in annual fees after the first year. If you already have cards at CapitalOne and want to keep your business there, the Venture is a good deal. Otherwise, the Barclaycard is well-liked at Money, and similar to most travel credit cards, it gives you baggage-delay insurance, an auto-rental collision damage waiver, travel-accident and trip-cancellation insurance, and access to "Concierge & Luxury Travel Benefits" through the MasterCard World Elite Program.
The Chase Sapphire Preferred card is the Barclaycard's main competitor; it frequently pops up on best rewards card lists. However, The Points Guy compared it head-to-head with our pick after significant program changes in 2014 and found that the Chase card is no longer a clear winner. While it offers 2 points per dollar on travel and dining, it drops down to 1 point on other purchases. In our own model (based on average US spending data), that difference helped the Barclaycard yield 12 percent more points in the first two years of use than the Sapphire Preferred—even when you take into account the 20 percent bonus that Chase offers when you book through its Ultimate Rewards portal. Travel hackers may like that the Sapphire Preferred allows you totransfer points to partner programs to find the absolute best deal. But for anyone who would rather not worry about which airlines and hotels are covered by which programs, we think it's easier just to get the money back in statement credits.
So the Barclaycard Arrival Plus is the best travel credit card for most people, but that doesn't mean it's the best credit card for everyone. First off, rewards cards are not for people who hold on to credit card debt and pay it off slowly. Rewards cards are a good deal only if you'll be paying off your balance each month. Otherwise, the higher interest rates associated with these cards will quickly eat away at your rewards savings.
But assuming you meet those criteria, you have plenty of good reasons to go with other cards, too. If you're loyal to a particular airline or hotel chain because of a hard-to-find route that you frequent or business-travel requirements, a branded card may get you extras such as free checked bags, priority boarding, and other perks of elite status. Beware the temptation of the no-annual-fee rewards card; even average spending on the paid version will earn enough additional rewards to pay for the fee. Finally, if you're a big spender or a heavy traveler, you may benefit from the extras that premium cards with higher annual fees offer. For example, American Express Platinum charges $450 annually but offers access to more than 700 airport lounges, $200 in credits for airline fees (such as for checking bags), $100 in credits for Global Entry & TSA PreCheck fees, and priority access for car rentals, hotels, and customer service. -MS
Ebook Reader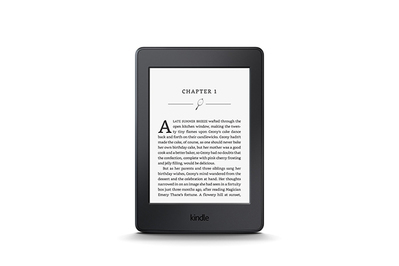 Amazon Kindle Paperwhite
A Kindle is handy for reading on the road without packing heavy books; it also makes travel guides a lot more useful through search.
Getting a Kindle Paperwhite for traveling is worth it just to be able to read books on the go without having to carry them. But it's worth investing in one even if you don't have time for pleasure reading because all major travel guides are available in fully searchable ebook formats now. While traveling in Southeast Asia a couple of summers ago, we used a paper copy of Lonely Planet's guide to Cambodia and the Kindle version for Bangkok. For all the benefits of having a hard copy—more waterproof, easier to markup, cheaper to replace if you lose it—ultimately we wished we'd gone with the Kindle version for both places, because nothing compares to the ease of universal search when it comes to quickly finding the information you need. Furthermore, etexts will also work on your phone, tablet, and computer thanks to the Kindle ecosystem. It's also worth noting that all Lonely Planet guides are available for free to Kindle Unlimited subscribers—something to keep in mind if you're planning a multi-country tour. With a Kindle, you also gain access to countless self-published guides written by locals and expatriates that are super cheap and unavailable in dead-tree formats. On that same trip to Asia, we ended up using a $3 ebook called 101 Things to do in Bangkokmore than the Lonely Planet guide because we liked it so much. -MZ
Folding water bottle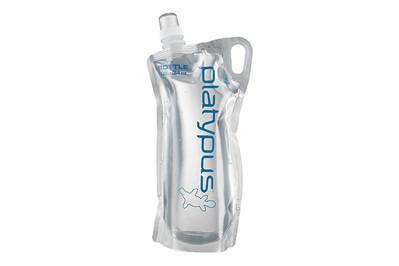 Platypus PlusBottle
The 1 L PlusBottle holds a liter of water when expanded and rolls into a package the size of an empty toilet paper tube for portability. It's made of softer plastic that's less leak-prone than harder alternatives.
If you're tired of paying for a liter of water every time you take a plane trip, try a lightweight, collapsible water bottle that you can stuff in your bag and refill once you get past airport security. There aren't many of these out there, and among the ones that do exist, most are made by companies with little-to-no reputation or customer support to speak of. But after abusing four water bottles from respected outdoors brands with reliable track records, our new favorite is the Platypus PlusBottle with the push-pull cap—though if you want to be certain the cap will never come undone and leak, get the closure cap version. The PlusBottle has a loop built into the top that lets you attach it to a carabiner if you want. It's made of a soft, plastic material that rolls up easily without wrinkling and creasing (it's more beach ball than chip bag), which we think will help its durability.
We're not the only ones who like the PlusBottle either. OutdoorGearLab named it their "best buy" water bottle: "We especially loved taking the Platypus PlusBottle on day hikes. With only a jacket and the bottle, we could stow it away when empty and refill on the go. As an extra or backup bottle on longer trips, or a primary bottle on ultralight outings, the Platy Plus is worth its meager weight in gold."
Last year, we picked the 1 L Vapur over the Platypus SoftBottle because its wider filling opening, flip-top cap, and built-in carabiner made it more enjoyable to drink out of and easier to store. However, CNET's Tim Stevens brought to our attention a design flaw with the cap that causes it to leak when lateral torsion is applied to it. We were able to independently replicate the issue using a brand new bottle. As such, we no longer feel confident recommending it. There's also a slough of silicone bottles that you can buy, but we wouldn't. As we mention in the toiletry bottle section, there are a lot of limitations on what you can and can't put in a silicone bottle. Alcohol is on the list. -MZ
Packable daypack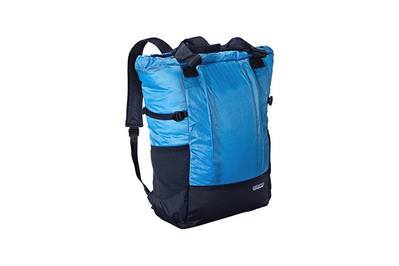 Patagonia Lightweight Tote
This Patagonia Tote works great as a tote but makes no compromises in backpack performance. It has all the padding and straps you'd expect on a normal daypack.
Packing a stowable daypack that stuffs down to fit in your luggage when not in use is a relatively small investment of space (about a rolled-up t-shirt's worth) in exchange for a high return of function and flexibility. We limited our search to packs that had water-bottle pockets (because they're crucial for keeping hydrated) and US-based warranty coverage (in case anything goes wrong). After spending another four hours checking to see what else has come out since last year and testing three new finalists, our top pick for a lightweight, packable daypack that still packs a punch—i.e., a bunch of stuff—is the Patagonia Lightweight Travel Tote for the third year running. Its combination of ergonomics, build quality, and versatility still can't be beat. It works as both a tote/shoulder bag and as a backpack with breathable, padded straps, making it a veritable Swiss Army knife both for traveling and as a general-use tote. And it's covered by Patagonia's lifetime warranty.
The Patagonia's 22-liter capacity gives it a similar carrying ability to the REI Stuff Travel Pack (an Outdoor Gear Lab best buy). But whereas the REI has a simple drawstring closure that makes it difficult to find and access smaller items, the Patagonia has multiple zippered pockets to keep things organized. Its main compartment contains a small internal pouch at the top (which is also the pouch it zips into for storage). It's great for chapstick, keys, and other small things that you want to keep handing. On the front is a larger zippered pouch with a key clip that can also hold notebooks, a small camera, pens, and more. On the back is a slip pocket which is for storing the straps when not in use but also accommodates a tablet, sleeved computer (smaller than 13 inches), or magazine. Additionally, you'll find deep, sturdy water bottle pockets on either side that can easily hold a 1 L Nalgene, umbrella, or other things you want external access to. Finally, the Patagonia is the only bag that had compression straps on the sides. This lets it carry loads of various sizes without getting floppy when it's nearly empty.
Comfort is another of the Patagonia's main advantages. Despite packing into a pocket the size of a 99-cent chip bag, it has all the straps and padding you'd expect from a non-packable backpack. Adjustable sternum and hip straps make this bag comfortable for long periods of comfortable wear; when not in use, the straps can be tucked away. A padded, reinforced bottom, overall construction from weather-resistant nylon ripstop, and high-quality, tight stitching gives the Patagonia tote structure and sturdiness lacking from the other bags we tried. For example, the Tortuga Packable Daypackactually has better organization—including a built-in organizer for pens and other accessories in the front pocket—but is made of cheaper-feeling nylon and has flimsier-feeling water bottle pockets.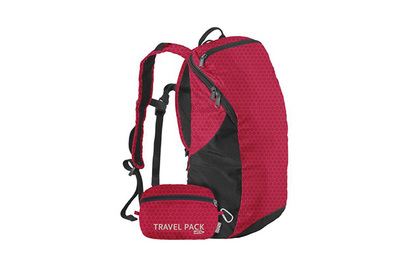 Travel Pack RePETe by Chicobags
This ultralight and packable bag is small but well-organized. Though not the strongest, it is a great value.
Though that Patagonia weighs just 14 ounces, it still falls on the higher end of the weight range for daypacks that we tested was the most expensive as well. If weight is an issue or if you just need a spare backpack for the occasional day out, we recommend the new Travel Pack RePETe by Chicobags. It won't be as tough, but at less than half the price of the Patagonia bag, it's also about half the weight (7.2 ounces) and collapses easily into a pouch just slightly bigger than a large index card. With a capacity of 15 liters, there's just enough room to comfortably pack a jacket or sweatshirt, camera, notebook, wallet, and sunglasses case in the main compartment, so no picnic. Then again, often that's usually all you need.
Packed full or not, the Chicobags daypack is comfortable to wear—the breathable straps are padded and wide and feature a sternum strap (though we found it tricky to adjust). The top-loading main compartment opens with a flap that zips outward, which is more convenient for accessing its contents on the go; especially when compared to the drawstring design of the similarly priced, and less-comfortable REI Stuff Travel Pack. Ultimately, the ChicoBags rePETe a good bargain and has a very functional design, but we wouldn't expect it to last nearly as long as the Patagonia. Indeed, it only has a one-year warranty compared to the Patagonia's lifetime coverage. -Jeannie Yoon
Cameras
When traveling, the right camera has to put flexibility above all else. These days, a decent smartphone might be all you need. But if you want something with more zoom or that will look nicer if you decide to print your photos, check out our "Which camera should I get" guide. You'll find advice on everything from cheap and pocketable point and shoot cameras to pro-ready interchangeable lens bodies—with information on which lenses to get, too. And we also have advice on camera-carrying equipment as well as accessories to improve your photography. -MZ
Notebooks
Field Notes
Field Notes are cheap but contain high-quality paper that earns praise from pen and stationery geeks across the web.
For writing your adventures as you travel, you can't beat the portability, practicality, and romanticism of a pocket notebook. There's nothing better in that category than Field Notes ($10 per three pack, available in a variety of styles and types). These pocket-sized notebooks are widely praised for their excellent paper quality, and the Pen Addict's Brad Dowdy tells me "Field Notes is pretty much the runaway pocket notebook champ." Dowdy has praised it for the lack of feathering or bleedthrough with almost any pen, as well as the light brown ruled lines, which are easier to write over than solid black. Lifehacker dubbed it one of their five best notebooks. Austin Smith of Art Supply Critic told me in an email that his recommendation is "Field Notes has it, no question." OfficeSupplyGeek and The Well-Appointed Desk have both reviewed a slew of different Field Notes variants for those looking for something a bit more interesting.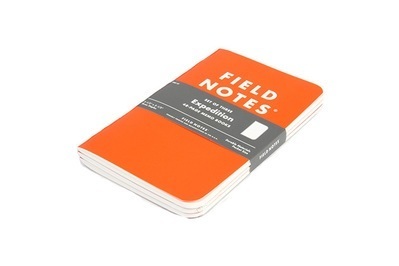 A weather-resistant option
Field Notes Expedition
Weather-resistant Expedition Field Notes are great if you're writing in wet conditions, but don't get them if you don't need them. The synthetic paper feels weird and can cause some inks to smear.
If you think you're going to be writing in foul weather, Field Notes also has the waterproof Expedition version with pages made from a synthetic water-and-tear resistant paper. You should only get these if you really need them, because otherwise, they just feel unnaturally slick and are more prone to smearing ink. At least one user has said that the paper shows less soaking through when wet than the similar Rite in the Rain books. Our own Seamus Bellamy has taken the Expedition to Spain, Costa Rica, and Ireland, saying that he hasn't bothered with Rite in the Rain since getting it. The one caveat is that the synthetic paper will only work with pencils and certain inks; thankfully our pick for best pen definitely makes the grade. –Tim Barribeau
Just in case
Things can go wrong when traveling both where you are and where you're not. While you can't prepare for every worst-case scenario, the peace of mind afforded by a little bit of preparation can help take your mind off of what could go wrong and allow you to focus on what's in front of you. But preparation doesn't just mean buying more stuff just in case; it also means making efficient use of what you already have.
Home security system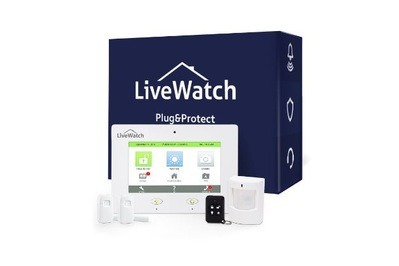 Best overall DIY home security
LiveWatch Plug&Protect IQ with Total Home + Video Plan
LiveWatch's system is easy to set up and use, works with the reliable Alarm.com app, and won't rob you if you decide to cancel your subscription.
$100 from LiveWatch (plus $50/month)
If you're going to be away for a while, a great security system can offer a bit of peace of mind. After more than 20 hours of research and a month spent testing six home security systems, our pick is the LiveWatch Plug&Protect IQ with Total Home + Video. Its touchscreen control panel and smartphone app are easy to use, and the LiveWatch system can be expanded to include security cameras, smart locks, garage door openers, and other Z-Wave devices. The reasonable initial price and monthly monitoring fee (starting at $40/month), coupled with the lack of a lock-in contract make LiveWatch a safer investment than similar home security systems. Coupled with homeowner's or renter's insurance, it'll mean one less thing to worry about while you are on vacation. -MZ
Sewing kit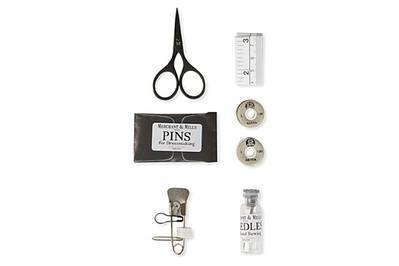 Merchant & Mills Rapid Repair Kit
The Merchant & Mills Rapid Repair Kit is the only travel kit we found that had objectively high-quality thread and scissors.
There's nothing quite like a wardrobe malfunction to put a damper on vacation, especially when traveling with limited clothing. A good travel-sized sewing kit allows you to mend a popped button or ripped seam on the fly—or even tackle more pressing issues like fixing a tent, sleeping bag, or backpack. After 15 hours of research, interviews with sewing teachers and avid home sewers, and tests of six travel and full-size kits, we found the Merchant & Mills rapid repair kit had by far the best tools and was the easiest to keep organized. Standard travel sewing kits usually contain mediocre thread and plastic-handled scissors that break easily. They can also be hard to keep organized (a truth we confirmed when testing six top-rated travel and full-sized kits). The Merchant & Mills set was the only one that had high-quality thread, all-metal mini scissors (don't worry, the TSA shouldn't stop you), and a durable tin case (about the size of a deck of cards) to keep everything well organized.
Because the sewing pins are neatly stuck into paper inside a slim envelope and the four needles (in two sizes) are housed in a mini glass vial, this kit also limits the risk of losing a sharp object in your bags. We found the Merchant & Mills needles easier to thread than others (no need for a fussy needle threader!) and we also like the vintage-looking safety pins that come clipped together along with three small white buttons. Although this kit only comes with black and white thread, the thread is strong and there's more of it than you'd get in a flimsier set with shorter strands of multiple colors. We do think it would be nice if the kit included a more durable measuring tape than the paper one included, but overall everything about this kit is leagues ahead of anything else we considered. We didn't find editorial reviews for any of the kits we tested, but the Merchant & Mills rapid repair kit was recommended by several sewing bloggers and is sold in many reputable indie fabric shops. -MZ
Umbrella
An umbrella you take traveling should be small, light, sturdy, and affordable. You're going to have to pick three. Our best umbrella pick for most people is decent for traveling, but after considering six travel-oriented umbrellas on top of the dozen we looked at in our full guide, we prefer the Davek Traveler for heavy travelers. It has everything we could want from a normal-sized umbrella at two-thirds the size: automatic opening and closing, sturdy construction, a comfortable leather wrist strap, and great wind resistance. However—you probably guessed this—it's expensive ($90 at the time of writing). But it does come with an unconditional lifetime guarantee (just pay to ship it to and from Davek) and loss protection, which entitles you to 50 percent off a new umbrella if you ever lose yours.
Jacqui Cheng, the Wirecutter's editor in chief, flew over 70,000 miles last year and has killed many umbrellas on the windy streets of Chicago. After comparing the Davek Traveler to the larger Euroschirm from our full guide, she noted the Traveler had a tangible step up in build quality. She was particularly impressed with its size and fact that the Traveler automatically reverses if it gets flipped inside out by the wind (you need to re-open it after this happens, though). The Davek's superior build quality is reflected in the weight: despite being about 3 inches shorter, it weighs 2.7 ounces more than the 11.1-ounce Euroschirm. She concluded saying, "I think I'm in love with the Traveler, and it disturbs me because it's a pretty expensive umbrella." We also brought in the Davek Mini to check out, but Jacqui concluded that it's a bit too spartan for most people's everyday use. Because of its extremely tiny size, the umbrella is manual, so there's not even a button to press to extend or open it up. "It was 200 percent better quality than what I expected when looking at it," Jacqui said, but she asserted the Davek Mini is still is more delicate than a slightly larger and more fully featured umbrella like the Traveler. "I would consider it if I'm trying to be as minimalist as humanly possible and I'm packing for a trip where every single thing absolutely has to be as small & light as I can get it. I'm not sure I would pack it on a standard trip, though; I would rather take a slightly larger umbrella that has more features." -MZ
Travel tips
Packing method for clothes
While packing cubes and other organization tools are helpful for maximizing your bag's usable space, efficient packing is also achievable without the aid of tools and compartments. One Bag's Doug Dyment tried all manners of folding aids and compression products but was unsatisfied with their claims of compression and wrinkle prevention. Frustrated, he developed his own method of packing clothes compactly called the Bundle Method, which he's used and perfected over several decades of traveling.
The Bundle Method involves layering your shirts and pants at opposing angles on a flat surface, then wrapping them around a small "core" parcel (e.g. a packing cube full of underwear and socks). We won't get into details, but Dyment does on his website; you can watch this easy-to-follow video from NBC. The resulting bundle is compact and has no sharp creases that will require ironing out later on. Additionally, Dyment explains that "the slight tension created in the fabric by the wrapping process, along with the anchoring of the resulting bundle, greatly reduces the chances of wrinkling." You then put it in your bag and use the tie-down straps to provide just enough pressure to keep it together. While simple to perform, this packing method isn't something you can master in one go. It takes a bit of practice, but once you get it, it's like riding a bike. The downside is that you can't just leave your clothing packed and expect to be able to access your underwear without fully unpacking your clothes first. But unpacking is a good habit to get into anyway, as it allows your clothes to breathe and avoid wrinkles or mildew. Brian Lam, who's been flying more than 100,000 miles every year since starting the Wirecutter, tells me that unpacking the moment he enters a room has a grounding effect that allows him to feel a bit more at home in a new environment.
If this sounds like too much of a hassle for you, you can do what we did before we found out about bundling: roll up your socks and underwear tightly and place them in packing cubes, then put your wrinkle-prone items (shirts, pants, jackets) in a garment folder—we used this Eagle Creek Specter Pack-It Garment Folder because it's the lightest option. This is also travel guru Rob King's preferred method of packing. While the garment folder not quite as space-efficient as the bundle method due to the added bulk of the folder and folding board, the plastic backboard does go a long way towards preventing wrinkles. Just be aware that if you leave your clothes in there for longer than a day, they'll begin to develop unsightly creases that require an iron to get rid of. -MZ